Learn About Truck Dispatcher License Requirements
August 2, 2022
2022-08-02 6:38
Learn About Truck Dispatcher License Requirements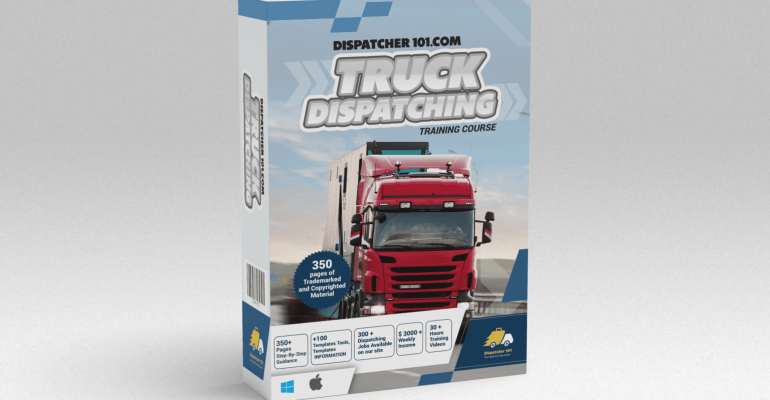 Learn About Truck Dispatcher License Requirements
The trucking industry relies heavily on truck dispatchers for trip scheduling, recording transportation expenses, tracking repairs, and ensuring complete shipping deliveries. But this all only scratches the surface – before you can decide whether or not freight dispatcher is the right profession for you, you need to do some homework.
Thankfully, we have taken on our shoulders and done the hard work for you. With the growing number of establishments offering online truck dispatching training, choosing the right organization and boosting your chances of success is hard.
You need a comprehensive guide about truck dispatcher training with mentorship. This is it. We discuss truck dispatcher license requirements, understand the fundamental definition of freight dispatcher and find out how to become a dispatcher. Later on, we also touch upon the subject of where to get dispatching classes.
Let's dive into what you need to know about free truck dispatcher training.
Who is a Truck Dispatcher?
Trucking companies employ freight dispatchers to coordinate shipping operations with suppliers, drivers, and receiving customers, where they work as an employer for a carrier company. In other cases, they work as a "bona fide agent" for the carrier company to schedule truck arrivals for product pickup and delivery while tracking the transit progress.
A truck dispatcher creates and optimizes transportation routes to ensure timely and correct deliveries.
Besides this, it's their responsibility to:
Negotiate load rates with freight agents, customers, and vendors
Keeping tabs on the weather conditions of the driver's route
Track loaded trucks through delivery
Coordinate and manage efficient loads to offer cost-effective solutions to the company
Determine the best delivery routes
Getting all the necessary documents and permits
According to the United States Census Bureau, the trucking industry has bounced back from the decline during the recession. The number of truck drivers is at an all-time high with 711,000 employers and self-employed trucking businesses. With that many trucking dispatchers and drivers on the road, one thing is for sure, freight dispatchers are vital for keeping the trucking industry running smoothly and safely.
Truck Dispatcher License Requirements To Consider
If you are wondering how to start a dispatch company, there are a few things that you need to take into consideration. Becoming a truck dispatcher is no child's play, but in the end, it's incredibly a rewarding experience. The problem is that success doesn't come overnight.
The authorities issue the US truck dispatcher license to people who show expertise in effective management, control, and organization of the delivery of goods. It applies to all no matter you are an individual or an enterprise. It's compulsory for all businesses who offer delivery services. To obtain a license, one must undergo truck dispatcher training at some qualified center or school of truck dispatcher training.
Nowadays, numerous educational centers offer truck dispatcher courses online free, helping individuals prepare for meeting truck dispatcher license requirements and qualify for the position of dispatch for truckers or dispatcher logistics. One needs to plan and prepare well in advance to ensure they receive the license.
A truck dispatching license is an official paper describing that the individual is qualified to operate as a freight dispatcher and complies with the regulations set by transport companies.
Here's your guide to the license requirements for truck dispatcher. Remember, you can get a license 30 days after submitting the papers and application.
Receiving Procedure
The legal authority responsible for issuing a license must collect a package of documents, fill out an application and wait for its acceptance. Bear in mind that the employee may be refused if the authority discovers incorrect data, documentation errors or the driver fails to meet the necessary requirements.
The legal body behind issuing the license to employers and permits to transport companies is the Ministry of Transport and Communications.
Required Documents
The following documents are required to meet truck dispatcher license requirements:
Copies of title documents certified by a notary
Bank details
Copies confirming compliance with the qualification level of employees
Copies confirming timeliness of passing certification declaring ensuring of traffic safety, parking spaces, and others
Cost Of Services
It starts with submitting the original document confirming payment to the state duty. The cost to obtain the license is $300, a one-time fee. However, the application submission and processing may require separate filing fees.
Education, Training, & Certification
Are you trying to find answers to questions like "how to become a dispatcher for truck drivers" or "how to become a freight dispatcher"? The answers lie in the truck dispatch's education, training, and other requirements.
How to become a truck dispatcher is the most asked question, and here's your answer: if you are looking to succeed as a freight dispatcher, get the training and qualifications needed for this position.
Although being a truck dispatcher doesn't require extensive education, some background education and training can help you land a job.
Let's have a look at the requirements.
Education
While a degree isn't always required to become a freight dispatcher, many truck dispatcher jobs look for candidates that at least have a high-school diploma or GED. Sometimes, even higher education is required, such as an associate's or bachelor's degree. Employers don't usually post any preferred qualification field. But a degree in supply chain management, logistics, or transportation can increase your chances of landing a job.
Experience
Although an associate's degree teaches many skills required for a freight dispatcher career, many employers demand 1 to 3 years of related experience in the field of courier or customer service representative is required by trucking companies. Some companies prefer individuals with prior trucking experience, including knowledge of Department of Transportation regulations and safety rules.
Internships
There's rarely any downtime in this profession as you are expected to be on your feet for most of the day, ensuring efficient management of deliveries. A real-life and practical understanding of the transportation and trucking industry can set you up for success. And an excellent way to achieve firsthand experience and learning dispatch is through doing internships within the trucking dispatch field.
Advantages Of Working As A Dispatcher
Probably one of the most overlooked positions in any logistics operations is of the truck dispatcher. Undoubtedly they spend countless hours scheduling freight movements, communicating with the truck driver, and taking control of an emergency on the road. A dedicated dispatcher team is crucial for your trucking business's success.
Freight dispatchers can multitask and delegate hauls to drivers. Also, they are well-rounded communicators who keep vendors, customers, and drivers happy and motivated. Freight dispatchers help trucking companies to stay on top of government regulations. They are crucial for resolving potentially hostile customer experiences.
And finally, they are the lifeline of every delivery-based operation as they work long hours and deal with adverse working conditions – they solve driver conflict, meet truck driver shortages and keep them happy.
Always choose a qualified and reputable enterprise when it comes to obtaining freight dispatch training.
The degree programs take about 2 years to complete and aren't the most suitable for those who are juggling multiple jobs. If you are training to get hired quickly, then an online truck dispatcher training course is your best bet as they require less time and investment than formal education.
A good example is Dispatcher 101. Their courses and classes put you on the fast track to becoming a freight dispatcher and help you gain hands-on experience within the transportation industry.
Final Thoughts
Are you looking for a fulfilling career in the transportation industry? The trucking sector plays a significant role in the US economy. Undeniably, there's no better industry than trucking to start your career.
Moreover, one doesn't need extensive qualifications to become a trucking dispatcher. However, having some experience in any relevant field increases your chances of success. You don't need to undergo specialized training as a transport dispatcher from any specialized university. Instead, freight dispatcher training courses online offer cost-effective means of earning certification and qualifying for a career in the field of dispatching.
Get started with an exciting new career as a truck dispatcher – enroll now.
People Also Ask Questions:
-How do you start a dispatching truck from home?
The best way is to find a company that employs remote workers, or you would be required to work in an office setting for a specified period before you are allowed to work remotely.
-Is it hard to be a truck dispatcher?
A truck dispatcher requires a high level of focus, organization, patience, and attention to detail. Most of the time, transport dispatchers manage high volumes of requests. In short, it's pretty demanding and stressful.
-How do I become an independent freight dispatcher?
To become an independent truck dispatcher, make sure you obtain a license from the Ministry of Transportation while completing all the required education and training. Learn about truck dispatching, develop customer-related skills, understand core responsibilities, promote your business online and draft a plan of action.
-How many trucks can a dispatcher handle?
At times, freight dispatchers are handling between 30 and 50 trucks.