How To Learn Dispatching Trucks From Home Efficiently
August 1, 2022
2022-08-01 21:34
How To Learn Dispatching Trucks From Home Efficiently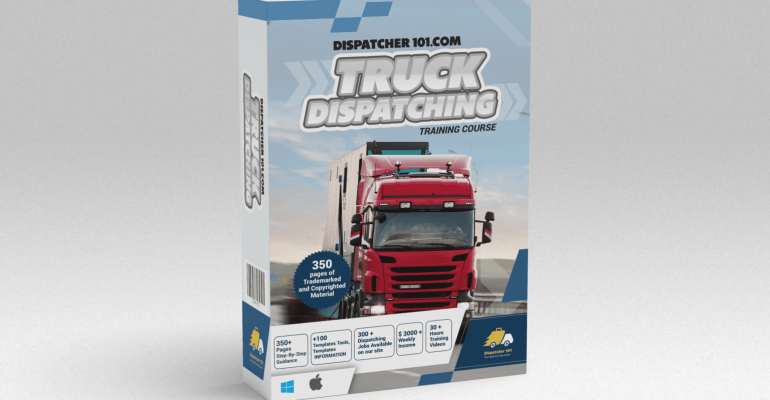 How To Learn Dispatching Trucks From Home Efficiently
In the $700 billion logistics and trucking industry, a work-from-home dispatcher's job is just as important as their office-based counterparts.
Dispatchers help trucking companies locate freight for transport. This job may seem like customer service, but it includes a broader range of responsibilities.
This article highlights how you can learn to dispatch trucks from home. We also explore the dispatching tasks you need to master and the steps you need to take to ship successfully from home.
Home-Based Truck Dispatcher Tasks
This section highlights your duties and responsibilities once you become a truck dispatcher while working from home.
Check out some tasks you need to follow to be successful as a dispatcher.
Finding Freight And Negotiate Rates
This is the primary responsibility of truck dispatchers. They locate freight to keep trucking companies busy and ensure that all parties are satisfied with the rates. Dispatchers may also be in charge of verifying the creditworthiness of suppliers.
Here are some helpful tips for negotiating freight dispatcher rates with ease:
Get everything in writing
Verify the broker and shipper information
Be sure to ask about the fees
Make sure you mark the load times every time
Look up the average spot rate
Make sure you know what the load-to-truck ratio is
Arranging Packages
This is another crucial task for dispatchers who work from home. But if you already have customers and are no longer required to locate packages on a daily basis, your job would most likely revolve around organizing pickups, deliveries, and other package handling concerns.
Managing Schedule
Cancellations do occur on occasion. Destinations are rendered impassable due to inclement weather. Due to unforeseen circumstances, scheduled delivery services may have to be rescheduled.
A dispatcher's job in these situations is to update drivers during the day to save gas and other resources and plan the best possible route.
Conduct Meeting
Dispatchers may also be responsible for a variety of administrative duties. These may include processing payments and invoices, maintaining records, collecting drivers' information, and interacting with prospective clients.
Ultimately, what you perform is a portion of a broader trucking and logistics firm. Equally critical is ensuring that drivers record their schedules, problems, route changes, and other trip facts.
Detail Log
It is essential that your truck drivers continually maintain comprehensive and accurate logs. Each time a driver completes a record, they must enter their full name, the license plate number of the vehicle they are operating, and the odometer reading. Additionally, they should include the day and time they began driving.
Also, ensure that truck drivers enter the complete addresses of their origin and destination. This information allows you to track the location of your drivers and cars.
Keep Up To Date
As mentioned earlier, as an at-home dispatcher, you must stay on top of things. Since you do not attend any physical office, you need to ensure that things are streamlined in your home office.
This can be done by good planning. Planning reduces the number of last-minute modifications and increases overall efficiency and productivity. Establishing geo zones, registering subcontractors, and making templates before you receive the assignment will save you substantial time on the same day as the project. Spend five to ten minutes at the end of each day finalizing plans for the following day.
How To Start A Truck Dispatching From Home
The field of dispatching online requires a vast array of talents and knowledge. You will need exceptional time management skills. Think of this as a quick truck dispatcher training. Check out some steps that are essential to helping you get back on your feet:
Get Initial Training
For success in the truck dispatching industry, expertise is essential. There are crucial components you will need to understand, each of which is focused on your knowledge and efficiency in dispatching trucks and, more specifically, how to expand the business of a trucking company through your trucking dispatch services.
Understanding what trucking firms need to be based on freight procurement, the rules trucking companies must follow under the FMCSA Regulations, and the availability of freight within their regions are just a few of the many things you must learn to dispatch trucks from home.
Join A Freight Brokerage
According to Title 49 CFR371 of the Code of Federal Regulations, anyone who solicits Motor Carriers and is involved in the movement of freight loads for pay must possess a Property Brokers License. Therefore, if you intend to learn how and when to dispatch trucks from your home, you must be part of a freight broker company to comply with FMCSA laws.
Obtain Relevant License
The US Truck Dispatcher License is a government-issued document. It is required for everyone who intends to control and organize the delivery of goods professionally, i.e., for commercial purposes and not personal use. You must complete truck dispatcher training at an approved facility to earn a license. This applies to both natural persons and legal entities.
Invest In Home Office Equipment
In addition to earning high compensation, working as a freight broker may be incredibly fulfilling; you can determine your timetable and, if you prefer, work from home. But unless you're a naturally organized person, you may rapidly find it challenging to locate the documents you require. So, here are some home office organization tips to make things easier:
Set up a dedicated space
Avoid clutter and piles of paperwork— they are your enemy!
Create a filing system that makes sense to you
Keep your supplies easy to reach
Dispatching Software
Learning to dispatch trucks from home will also prompt you to study TMS Software (Transportation Management Software). There are numerous varieties of Trucking Dispatch Software, and you will need to pick the one that corresponds most closely to your technical skills.
In some instances, your carrier may already be utilizing a TMS, and you will need to master the TMS software to dispatch a load effectively. The goal of learning how to send trucks using TMS software gives you control of the load from beginning to end.
Extensive Market Research
A truck dispatcher worth his salt must thoroughly understand the company. They must comprehend the dynamics, capacity, and seasonality of the freight business. They must be aware of the current state of every market for every sort of equipment (van, reefer, flatbed, step deck, etc.). They must be able to negotiate with brokers, freight forwarders, and third-party logistics providers.
Market Yourself And Your Company
If you want to take your truck dispatching business to the next level, begin marketing for it wisely.
Establishing a robust online presence and marketing strategy requires the creation of a website and social media profiles. Choose a domain name that contains your business name but is brief and easy to remember. You can check the availability of your selected domain name on sites like GoDaddy and register it there.
Once your domain name has been registered, you may build a Facebook page under the same name for your advertising efforts. You should also consider creating a YouTube channel if it fits your interests. With a YouTube channel, you may demonstrate your expertise and establish your authority by acquiring subscribers.
How Much Does A Home-Based Truck Dispatcher Make?
Trucking Dispatcher salaries in the United States range from $10,050 to $236,852, with a typical pay of $42,806. The middle 57 percent of Trucking Dispatchers earn between $42,806 and $107,015 per year, and the top 86 percent earn $236,852 per year.
How Much A Home-Based Truck Dispatcher Make?
People in this tax band paid an estimated average federal tax rate of 22% in 2018. After the federal tax, trucking dispatchers can anticipate an annual take-home pay of $40,122, with each paycheck amounting to roughly $1,672*.
Final Thoughts
Truck dispatching is unquestionably more sophisticated than typical call center work or other phone-based income opportunities. In truth, dispatching is a fast-paced role that requires the ability to keep calm under pressure. This is likely the most significant trait of dispatchers, given the reality of burnout in this industry.
There are numerous responsibilities of a dispatcher. Being a dispatcher who works from home does not make the job simpler. First, you must have excellent communication and negotiation abilities, as your goal is to always find common ground with another trucking/logistics business participants.
Second, you must be very organized, adept with spreadsheets, numerate, and possess leadership abilities.
The US Bureau of Labor Statistics projects that the trucking, transportation, and shipping industries will continue to expand, so there's no better time than now to pursue a career as a dispatcher for truck driver or become a truck driver. Think you can handle being a professional truck dispatcher but don't know where to start? Disptacher101 offers members dispatching training with mentorship. Contact us for more details.
People Also Ask Questions:
– How do you start a dispatching truck from home?
You need to have the appropriate training, join a freight brokerage, and obtain a license to start a dispatching business from home.
– How long does it take to learn dispatching?
You will need exceptional time management skills. This depends on the courses you take and how quickly you can grasp the concept. There is no fixed time on how long it can take to learn, but usually, it can take a few months.
– Is dispatching trucks a hard job?
Dispatching trucks require a set of skills. While it may not be difficult, it still requires a level of commitment to learn these skills and apply them to the task.
-How do I become a freelance truck dispatcher?
All you need is the proper license and the required skills to get the job done. The US Bureau of Labor Statistics projects that the trucking, transportation, and shipping industries will continue to expand, so there's no better time than now to pursue a career as a dispatcher.